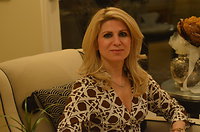 Counselling and Psychotherapy in London Bridge
Fact: Life presents us with challenges.For many when this occurs it at a time when circumstances are very difficult or we are not prepared or equipped to handle this impasse. At these times in my experience is when a helping hand could make the difference and guide us through this. The key is usually another perspective of understanding, one not entangled in the emotion of the problem itself. By systemically exploring these emotions and making sense of them it will help you unravel the issue at hand and get life back to the enjoyable experience it should be.
My name is Katerina Dimakopoulou and I have been a practising counsellor and psychotherapist in London since 2005. I am committed to providing counselling and psychotherapy in a safe, confidential and non-judgemental environment.
My clients include individuals and couples. My mission statement is to help you be able to understand and work with your strengths but also identify your individual difficulties and work around them so they do not pose an obstacle in the future.
Such difficulties may present in many ways and below are some examples that I have experience of providing therapy for:
Depression

Anxiety

Sexual Difficulties

Relationships

Panic Attacks

Stress

Bereavement

Redundancy and

Sex Addiction.

My practice is based in Munro Clinic, at London Bridge and is within easy reach of London Bridge Station and Undergound Station.